What is Black Jack: Blackjack is one of the oldest card games around, it is also called 21, and it is a simple game at heart. A group of players sit around a table and try to beat the dealer. The player's hands are scored and the aim of the game is to get to 21 without going over. Whoever is closest to 21 at the end of a hand, wins.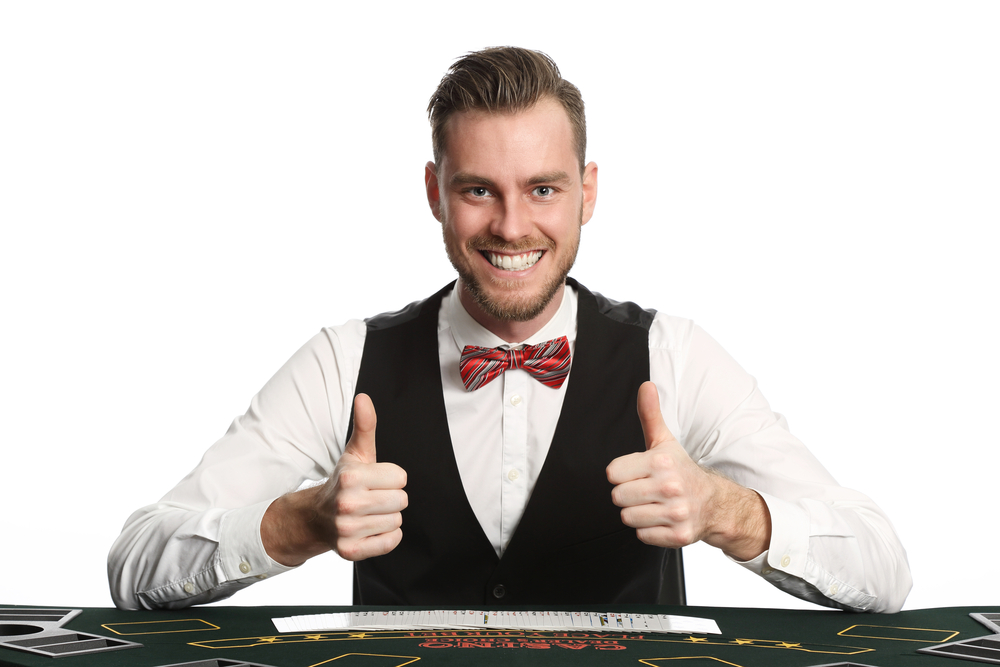 How do you play a live Blackjack online
If you have ever played Blackjack at a casino then you will already know how to play live casino Blackjack online. The rules of the card game are the same, the online version with a live dealer just gives you the ability to play from anywhere, at any time and with anyone.
To join an online game, you will first need an online casino account, and to make sure you are playing with the latest software available it is never a bad idea to go with one of the new live casinos on the market. Once you are signed up, simply find an available table and place your first bet. The dealer will deal you into the next hand and away you go.
How do you score the cards
If you have not played Blackjack before you will need to know the rules before you join a live casino Blackjack game.
All the cards have a point score to them:
Numbered cards – It is their face value.
Picture cards – Are all worth 10.
The Ace – Can be either 1 or 11, you get to choose.
So if you have a hand which has a 5 and a Queen in it, your hand is worth 15. If you have an Ace and a 2, your hand could be worth either 13 or 3.
How is the game played
Once you have placed a bet and received your first two cards, you get to look at them and decide what to do next. You should look at what the dealer has, one of their cards will be face up to give you a helping hand.
If you have a low total, you can ask for more cards to try and get your hand up to 21. All the new cards score in the same way and add to your total.
Be careful not to ask for too many extra cards, as if you go over 21, you are bust and lose the hand and your bet.
Understanding the Terminology of Blackjack
When you play the online version of live dealer Blackjack, you will be prompted with your options, so if you don't remember the exact words, don't worry too much. It is important to have an understanding of what they mean and what your options are:
Hit – This gives you another card.
Stand or Stick – You stop getting any more cards and 'stick' on your total.
Double – You double your bet and will only receive one more card.
Split – You can 'split' two cards of equal value and create two hands to play.
What is a good Blackjack hand
The nice thing about playing live Blackjack online around a table, is that you are not playing against the other players and all of you can win, if you beat the dealer. The only hand you have to try and beat is that dealer's hand in front of you.
The best hand in Blackjack is Blackjack itself. This is an Ace a picture card. The total is 21 and it can not be beaten. The tables have a special payout rate for this hand and all casinos will pay for Blackjacks at 3:2.
The second best hand is any other combination of 21. It could be an Ace and a 10, or a 7, 4 and a 10. It doesn't matter how you make it up, but as long as you get there.
From then on, the best hand is simply the highest hand on the table.
Why play live dealer Blackjack
There are many great reasons to play Blackjack online with a live dealer:
It is a live game
You are playing a live card game and you get to see real cards being played with. It helps to create the right atmosphere for your playing experience. You can sit and watch everything that is going on.
Chat to the dealer
When you are sat playing at a live dealer table, you will sit and chat to the dealer all night long. The exact same is true of the online live tables. You will be able to play your games whilst having a chat with the dealer.
Surprise bonuses
It is really easy for the online casinos to be able to credit you for your playing time. They can see if you have played twenty hands and can give you an individual bonus, or the dealer might be able to give you a free promotion just for being a good player.
The disadvantages of playing with a live Blackjack dealer
As with anything online, there are a few drawbacks, but only a few:
The games can be slower
If you are on a table of seven players, it only takes one to slow play and your hand will take a long time. There's a simple solution to this, you can move tables at the click of a button to a quieter one.
Meeting capacity
Just like any real-life casino, the online live tables have a set capacity. Once all the tables are at capacity, there are no spaces left for you. The good thing about the online version, is that players tend to move around quite often, so it will never be long before you can find a seat.
Playing Blackjack online at a live dealer table is the closest you will ever get to having the live casino experience while being able to play from the comfort of your own home.